Local Authority Bulletins
Local Authority Bulletin - November 2021
Working in partnership with Local Planning Authorities
What is your most efficient way to receive planning applications?
This is a question we have asked many Local Authorities when we see them at events, catch up on the phone, or indeed host Local Authority workshops. The consensus has overwhelmingly been that submitting applications through the Planning Portal provides the most cost effective, efficient, and secure way for agents and homeowners to submit applications and for you to receive them.
So together, how do we get the greatest improvements and best customer experience with the Planning Portal and its services?
Agent forums
Why not invite us to attend any agent forums you are hosting? We regularly attend these sorts of events across the country and find they are a great way for us, and you, to promote the mutual benefits of our partnership.
These interactive sessions provide agents with the opportunity to ask any questions they may have about the application service, provide us with detailed feedback and understand what the latest developments are at Planning Portal.
We are able to adapt the messaging we promote to match the goals and objectives of LPAs, be that using the Planning Portal to support sustainability objectives, or to save time and money.
Validation forums
We all know that invalidation continues to be one of the biggest issues for both Local Authorities and applicants in increasing delays, costs, and resource. Working with Local Authorities, these sessions provide excellent opportunities to clearly outline any requirements and standards that Local Authorities have, what mandatory documentation is needed and how best to access the information.
Working together we can improve the quality of applications, saving time and money.
Internal workshops
Do your planning teams know the Planning Portal?
All Local Planning Authorities understand the application process, the required documentation and the standards that need to be met, but do your teams understand the applicants experience of using the Planning Portal? We regularly run sessions with planning teams demonstrating the planning application process. We find the understanding team members get from these sessions is helpful when it comes to interacting with customers. It gives planning teams conviction in their answers but also helps to understand some of the frustrations applicants may be experiencing, thus allowing them to communicate better.
One-to-one meetings
There are several areas that we find get missed across customer touch points which help to drive applicants towards online submission. We believe in the power of a good conversation to catch up. We run one-to-one workshops with Local Authorities to analyse their website messaging and ensure they have the most up-to-date links, guidance and signposting on their website. We are also able to provide updates specific to your Local Authority, including national, regional, and local statistics, to allow you to understand how your area is performing in relation to others.
If you believe that any of these activities could be beneficial to your Local Authority or planning team, please get in touch with Ian Foster, Business Development manager at Planning Portal for more information by emailing ian.foster@planningportal.co.uk1
Planning Portal's best kept secret – Don't miss out!
Working together to transform planning and building
At midday today we will be going live with the third episode of our webinar series: The digital future of planning and building. This month we will be discussing a new feature that will be launched with the re-platforming of the Planning Application Service; 'Projects'.
You may have heard of, or used, 'Workspaces', the current collaborative function available on the application site. At Planning Portal we are passionate about transforming planning and building and believe that enabling a collaborative approach to the planning process helps our professional users to connect with their clients, to work on amends, concepts, and applications.
If you would like to join us today, you need to head over to our Community Hub2 to add the session to your schedule. We will be joined by Sarah Chilcott, Managing Director at Planning Portal, Scott Alford, Head of Business Development at Planning Portal and Paramjit Singh, Product Owner at TerraQuest.
You can catch up with last month's episode here3. This episode focused on transfer of application data and supporting documentation from the applicant to the LPA systems, with best practice hints and tips to improve quality for a smoother registration.
A few months ago we shared an article with you entitled 'Data, not documents'. As we move towards the 'go-live' of our re-platformed system we want to improve the transfer of data and documents from the Planning Portal into LPA back-office systems. There are two easy steps that can be undertaken now to get the most out of the current system and to make sure local authorities are ready to take advantage of the new improvements when they come. You can find out more about this here4.
If you have missed out on previous episodes of the webinar series, they can all be found in the 'On Demand' section of the Community Hub.
If you have any questions or comments regarding the webinar series, please email communications@planningportal.co.uk5.
If you need assistance with accessing the Community Hub, or any sessions, please email community@planningportal.co.uk6.
Data, not documents
A significant aspect of this is for us to work with Local Authorities to improve the transfer of data and documents from the Planning Portal into their back-office systems. We have many improvements to look forward to in the coming months, but there are two easy steps you can take now to get the most out of the current system and make sure you are ready to take advantage of the improvements when they come.
An overview of our current schema versions is below, though with ongoing changes to planning policy and our new IT platform, we expect the pace of change to increase. We would recommend that you speak to your current IT supplier about keeping up to date, and make sure you include it as a requirement in any tender if you decide to change supplier.
Step 1: Check your 1APP connector is up-to-date
Data from the Planning Portal is delivered to Local Authority back-office systems using the structure defined in our 1APP data standard (also referred to as a 'schema').
This allows for all the information entered into our online planning applications to be automatically downloaded and processed by Local Authority IT systems.
When updates are made to the online planning application system that change the information being collected (i.e. when a new application type is added or a legislative change needs to be accounted for), the 1APP data standard is updated in parallel to ensure this information is able to be passed to Local Authorities.
In addition to 'supporting' the latest version, the connector needs to 'request' the specific version when retrieving applications. Where a specific version is not requested, our system will default to the lowest common version (currently 0.9). We have records of the versions being requested (or not) for each Local Authority, so we can always let you know this key detail.
What happens if these updates do not happen?
If you are not on the latest schema version, you will not be able to retrieve/process some types of applications and/or receive a complete set of data. In these cases, the applications will need to be manually downloaded and processed, and the missing information reconciled against the generated PDF forms we provide.
This could, for example, mean you are not automatically receiving all Prior Approval applications, or even those for Non-Material Amendments.
Step 2: Check the connector is processing all the available data
Regardless of which version your connector is requesting and using, you may find that it is not set up to process all of the data correctly.
What happens if it is not utilising all the information?
Regular feedback from Local Authorities shows that too much time and resource is spent on consolidating and indexing documents, or that they are not able to see all the information in the application. This does not need to be the case. 
Please review our technical guidance note7 and if necessary, speak to your IT supplier about the connector configuration. If you need support from us, please contact our Support Desk by emailing support@planningportal.co.uk8.
Schema versions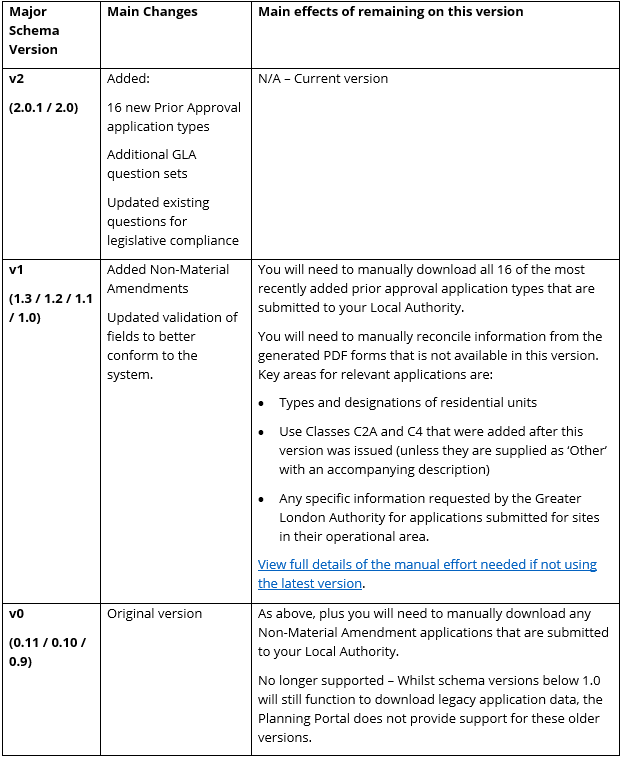 View full details of the manual effort needed if not using the latest version9.
Helping Local Authorities digitise planning, building control and local land charges
Our parent company, TerraQuest Solutions, have been working with planning, land charges and building control teams on transformation and modernisation programmes for over 25 years. They prepare and digitise records into existing systems, and also migrate records, data and applications into new systems to enable digital working. We believe these services could be of use to you.
TerraQuest's service brochure can be accessed here10.
Recent events have forced Local Authorities to consider having access to digital records and data for normal operations to continue in unforeseen events. TerraQuest have seen a huge increase in the need to access data remotely with more and more staff working from home and there is now a huge effort in Government to get all Local Authorities converted to easily accessible, up-to-date digital data. 
Experience and expertise
TerraQuest is a leading digital data organisation in the UK with strong expertise in delivering document management and data capture services – including data cleansing, migrating and transformation; scanning, indexing, digitisation, storage, disposal and retrieval services to public sector and private clients to exacting standards.
TerraQuest is uniquely placed to understand what the requirements, pressures and complexities are when working with other departments of Government in preparing and capturing data for the purposes of transformation.
One of the leading projects they have been involved in recently is helping Local Authorities move land charges data from paper and hybrid formats (a mixture of paper and electronic data) to the Land Registry LLC Register by creating digital data and then transforming it.
Webinar
On 19 January we will be hosting a webinar in partnership with TerraQuest on the Planning Portal Community Hub, where one of their leading experts will be talking through the digitisation processes to help you ensure that your data is transformed in the most efficient ways possible. If you would like to register for this webinar, please email communications@planningportal.co.uk11 for more information.
mailto:ian.foster@planningportal.co.uk
https://community.planningportal.co.uk/
https://youtu.be/i7VlOCRNcBA
https://www.planningportal.co.uk/news/article/806/local_authority_bulletin_-_november_2021#data
mailto:communications@planningportal.co.uk
mailto:community@planningportal.co.uk
http://ecab.planningportal.co.uk/Uploads/schema/Documentation/Technical_guidance_for_Planning_Portal_webservice_integration_v2-1.pdf
mailto:support@planningportal.co.uk
http://ecab.planningportal.co.uk/uploads/1app/lpa-guidance_old-versions-of-data-standard.pdf
https://mcusercontent.com/225ef92d1ef81a08db304a46b/files/ad1392d9-e3ad-46e7-79f3-24c5c142eb81/Digitisation_Transformation_for_Local_Authorities_by_TerraQuest_2022.pdf
mailto:communications@planningportal.co.uk
Local Authority Bulletin - November 2021